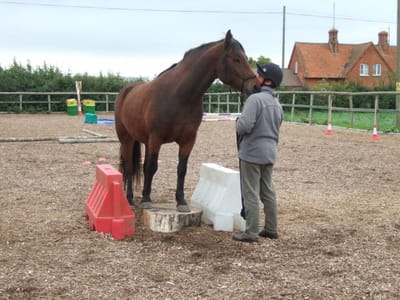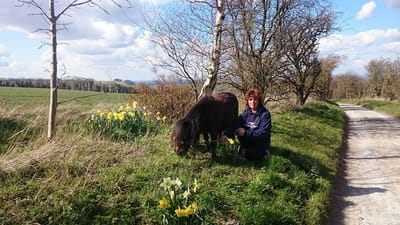 My passion for horses now spans over five decades and horse Agility has played a large part in the last two of them.
Even when I was quite young I was not a very brave rider. I much preferred riding around on my ponies bareback with just a headcollar and mostly with no hat. Whole days were spent just messing about with them.
Back in the 1980's with the help of my family, I started a small riding school. We had over 20 horses and ponies and mostly taught children. When I look back now to those days, it is in awe of what we where allowed to do that would now be considered a big health and safety NO NO! The children would come and spend the whole day at the stables, we would organise small shows, camping holidays and generally have lots of FUN. The ponies were fun. I loved it as much as the children did !
Later in life, I spent some time working in the horse racing industry, never riding out, just working in the yard doing the everyday "stuff". I was lucky I worked for the very successful racehorse trainer, Henrietta Knight, who trained some wonderful horses.
I learnt a lot from those horses and Hen, they were very informative days. Even then though, there was still a nagging doubt in my mind that horses weren't born to be ridden. Fear and pain can be an every day occurrence for a ridden horse and that didn't sit well with me, but there's no getting away from the fact that majority of people keep horses to ride and enjoy them
Bringing things up to date. With all the information that is now available via the internet and through research and meeting some very interesting people, I have now chosen not to ride horses anymore, and I feel very comfortable with that.
However by choosing not to ride, it has opened up a whole new perspective for me, that of the world of ground work training and of course the exciting and transformative world of horse Agility.
The relationship with a horse on the ground, working and communicating together, for me far exceeds the one that I could have sitting on his back. As I've got older I feel I want to have the same sort of relationship with my horses and ponies as I want with the people in my life, simple without fuss and drama but also fulfilling and meaningful.